P03 and P05MSV-PD CAST IRON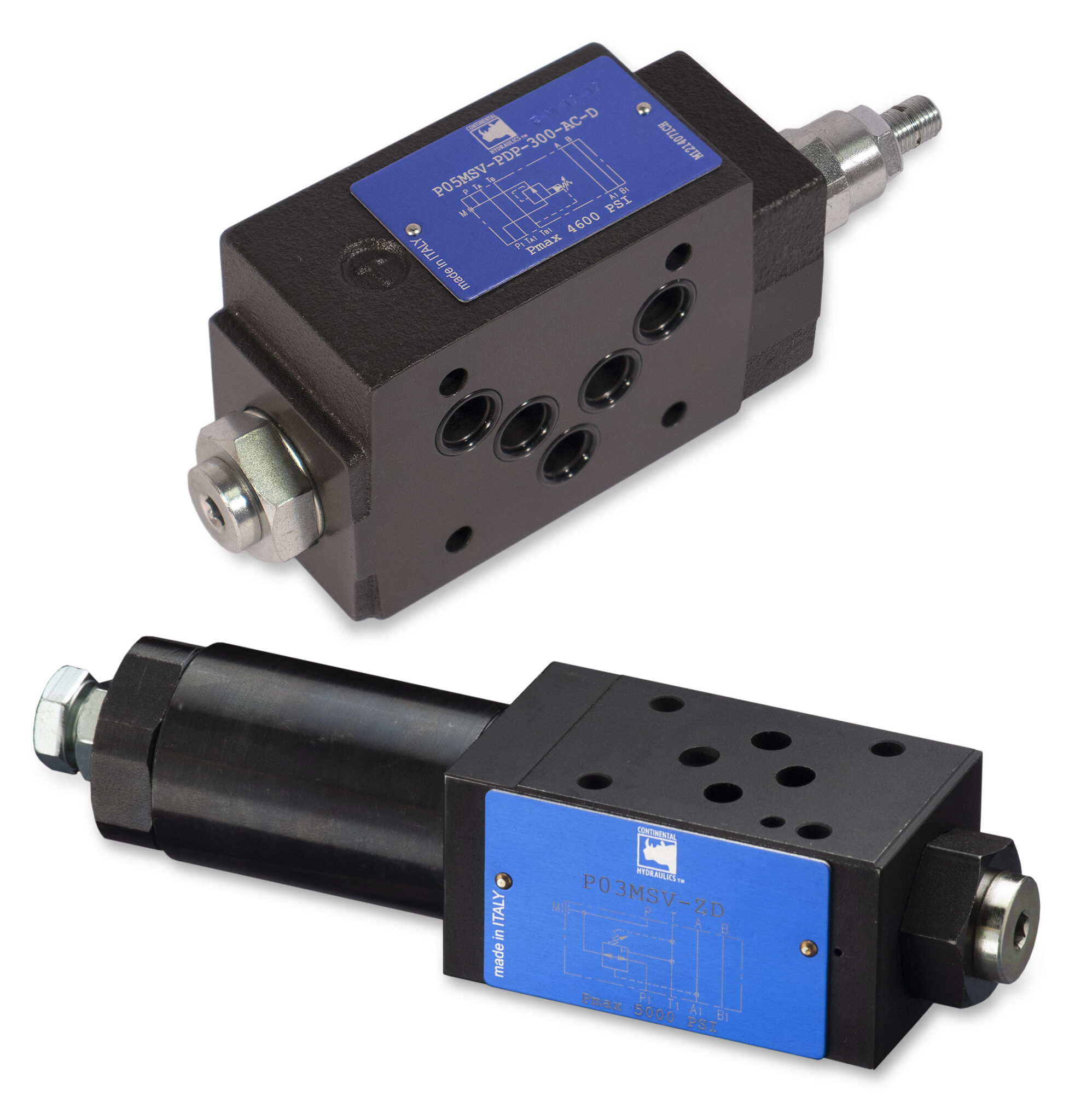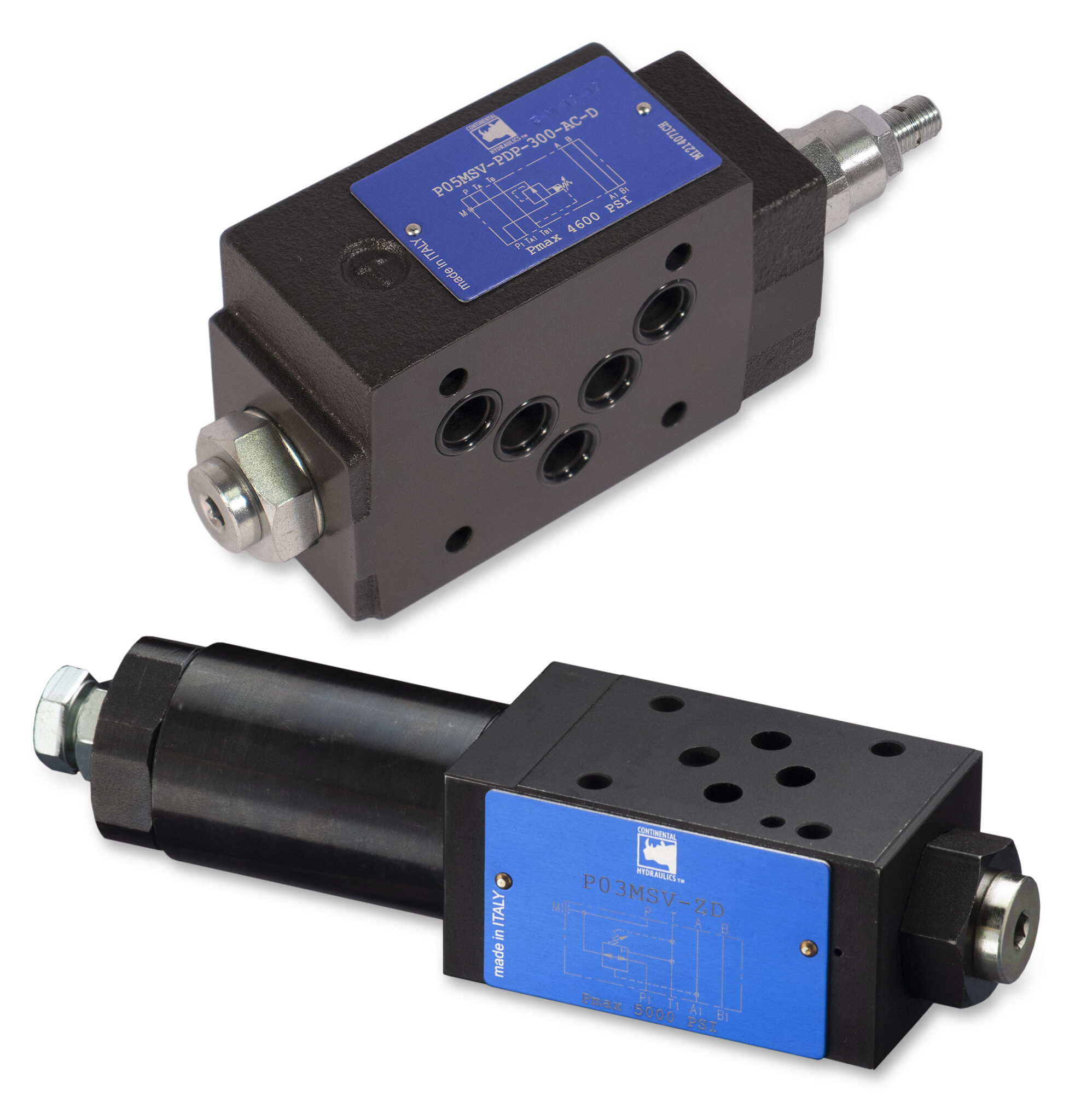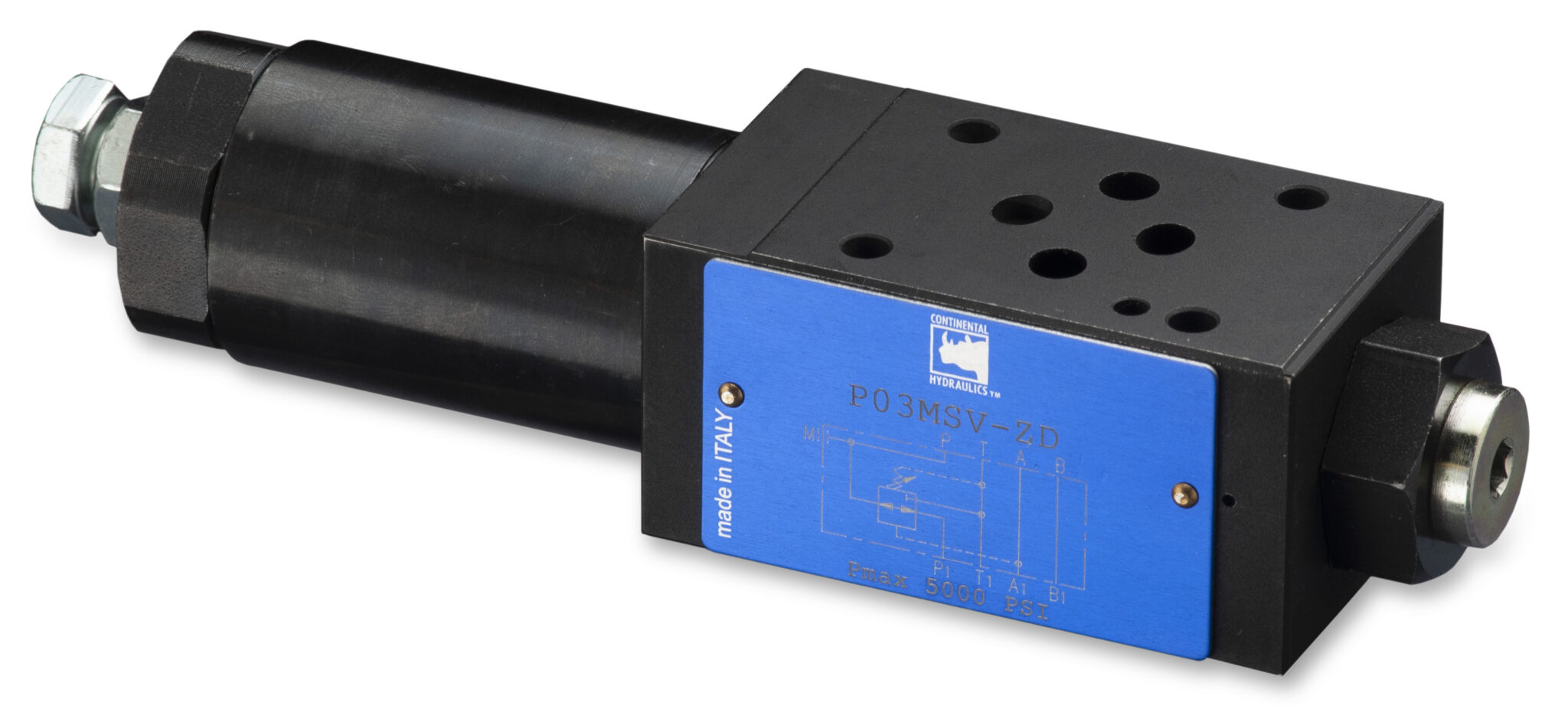 Description
Pressure Reducing / Relieving Valve
P03MSV-PDR
Modular three-way spool type direct operated pressure reducing / relieving valve. It is available with fixed or variable adjustment. This valve is available with reduced pressure control on port A, B or P. The valve construction provides good adjustment sensitivity with reduced drainage flow. The drainage is connected to line T inside the valve. The three-way design provides protection of the secondary circuit from pressure surges since it allows a reverse flow from the actuator to the T discharge line. The variable adjustment version is supplied with a hexagonal head adjustment screw. The fixed adjustment version is available preset to 285 psi (20 bar) 360 psi (25 bar) or 430 psi (30 bar) pressure.
The valve is normally open passing hydraulic fluid freely from P to P1 until the control port pressure reaches the pressure setting. The valve will shift to deliver just enough flow to maintain the controlled pressure. The valve will divert flow to the T port to relieve the control port pressure when it exceeds the pressure setting.
P05MSV-PD
This valve is a pilot operated pressure reducing valve with mounting surface according to NFPA D05/ISO 4401-05 standards. It is used to reduce pressure on secondary circuit branches, assuring stability of the controlled pressure. It can be assembled in a stack under a NFPA D05/ISO 4401-05 directional solenoid valve using suitable tie rods or bolts. It is supplied with a hex socket adjustment screw and a locknut. The maximum travel of the adjustment screw is limited. It is available in four pressure adjustment ranges, up to 4600psi [320bar].
Key Features:
Maximum operating pressure:
P03MSVPDR and P05MSV-PD is 5000 psi
P05MSV-PDA and PDB is 3000 psi
P03MSV-PDR: maximum pressure for T-port 145 psi
Maximum flow rate P03MSV-PDR for controlled lines 13 gpm and free lines 20 gpm
Maximum flow rate P05MSV-PD for controlled lines 21 gpm and free lines 26 gpm
Date modified:
01-13-2023
Date modified:
07-29-2020
Date modified:
10-29-2018
Date modified:
10-29-2018