NEW PRODUCTS
VEP05MSV - Proportional Three-Port Pressure Reducing Valve Pilot Operated
The VEP05MSV-PDP are a D05 modular three-way proportional pressure
reducing valve which conforms to NFPA and ISO 4401 mounting standards.
These valves are designed to provide remote variable pressure control in the pressure port of a secondary circuit. The controlled pressure is proportional
to the amount of current supplied to the solenoid.
As flow demands change, the valve opening will modulate to maintain the circuit pressure. In event of a loss in electrical power, the valve spool will return to the
low-pressure condition.
The proportional solenoids can be driven by a variable current power supply or by
use of external Power Amplifier Cards designed to maximize the valve's performance.
Key Features:
• Three Controlled Pressure Ranges up to 3300 PSI outlet.
• D05 Modular stack design for ease of installation
• Rated for flows to 26 GPM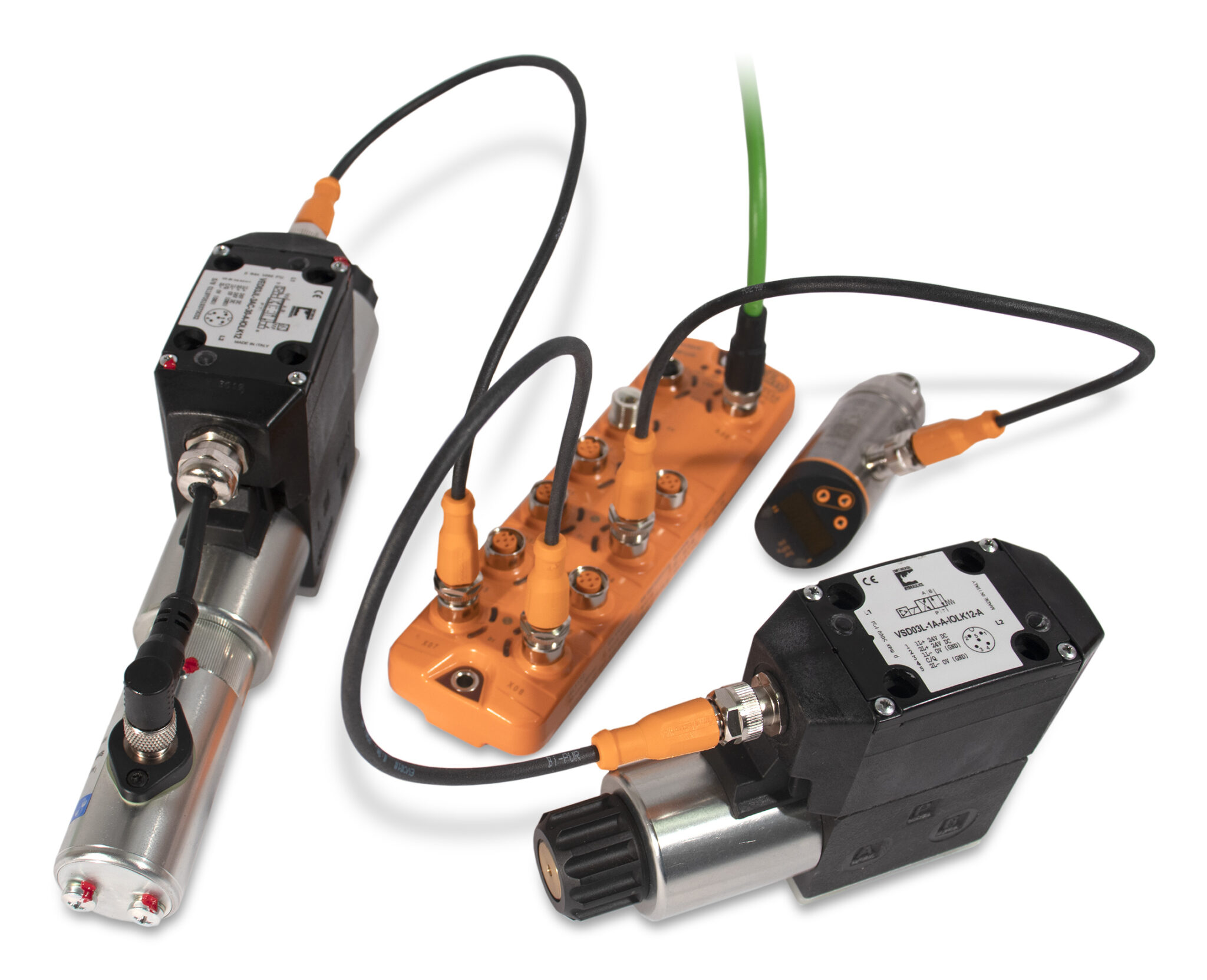 IO LINK
Easy integration and diagnostic functions
Enable diagnostics and setting adjustments, as required by Industry 4.0. Advantages ranging from predictive maintenance to performance measurements for productivity.
As production demands increase, factories are turning to real-time data to make smarter decisions. What if your devices could tell you what they are doing, how well they are doing and instantly alert you to problems?
IO-Link solutions enable the integration of hydraulics valves, both ON-OFF and Proportional, in digital communication systems. IO-Link is not a communication bus, but a point-to-point digital communication protocol.
Also, by using IO-Link technology on the hydraulic power units, they become a dynamic system made "smarter" using the IO-Link protocol. Advantages which are derived from turning components into their smart and connected versions, a hydraulic power unit can now be used to manage the supply of power. A necessary condition to realize an authentic predictive maintenance.
Optimize your operations, get more from your devices, and make better, data-driven decisions with IO-Link solutions.
HPVR - Piston Pump
HPVR with increased pressures to 4000 PSI!
Our variable volume, pressure compensated axial piston pumps continuously match output flow to the system demands. They're designed to closely match the Eaton-Vickers PVB and PVQ and the Denison PV series of pumps in physical size, port location for ease of interchange and replacement.
HPVR Key Features:
Flow rates to 30 GPM
Replaceable port plate, piston show wear plate and control piston wear plate to simplify maintenance
Tandem pump options
Interchangeability
Multiple control options
New Trunnion bearing and heavy duty components provide long life and reduced noise
PVX Vane Pumps
Our PVX vane pumps are now approved for water glycol to 2500 PSI!
Water glycol fluids have proven to be an excellent fire-resistant hydraulic fluid option. This should open up new markets like food processing, steel manufacturing, automotive assembly or and other industry that typically use the water glycol fluids.
PVX: Our variable volume, pressure compensated design makes them an excellent choice for many industrial applications. These field-proven, highly durable pumps provide long life and quite operation resulting from the use of heavy duty forged, one-piece rotors and hydrodynamic bearings and pressure balance side plates.
When ordering: use option Code "W" under Seals and "25" under Pressure Range.
PVX Key Features:
Flow rates to 75 GPM on single pumps
Pressures to 3000 PSI
Low noise (to 67dBA at 3000PSI)
Contamination and lubricity tolerant
Multiple control options
Great suction characteristics
Great for applications with high speed proportional products